It's doubtful that benches have ever seen so much 'parking of backside action' than in the last year. Every Tom, Dick and Harriet has been on the march since the pandemic struck having been forced to exercise close to home. Even those folk who don't exercise very often have stretched their legs and taken in some air.
Similarly, picnics have become an international pastime of choice. In July 2020, New York magazine, Grub Street declared that it was "the summer of the picnic", because "the picnic is sort of all we have."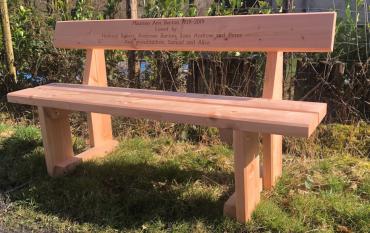 More recently here in the UK the low-risk activity of picnicking in the park has been allowed again since April 12th in the first phase of the easing of lockdown restrictions – as long as it is no more than six people or people from no more than two households, of course.
And with improved weather, parks and nature trails have become the place to have a Scotch egg, a cheese butty and a glass of fizz.
So much so that scores of newspapers the length and breadth of the country have published best places to chow down in nature. Even Buckingham Place has got in on the act. The traditional summer opening of the palace's state rooms and themed exhibition has been cancelled for the second year running.
However self-guided garden tours are on offer from July to September, offering the paying public the chance to wander through Her Majesty's own back yard. Let's hope she hasn't got her washing out!
And this year, visitors will be allowed to bring their own picnics, chairs and blankets to enjoy the garden's sweeping lawns.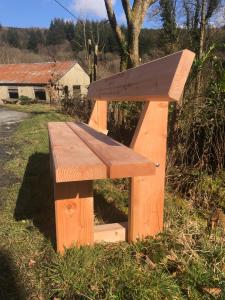 Needless to say, here at Nature Sign Design we are a bit partial to some al fresco dining, as well as finding a bench to enjoy a view from. We never become bored of the great outdoors.
While sitting on the grass is perfectly acceptable you do run the risk of a damp bum and ants in your pants or all over the cream tea. That's why, among other things we are pretty adept at making and supplying benches and picnic tables.
Our benches and picnic tables are made from Douglas fir which is one of the most widely used types of lumber for its stability and strength and is much less prone to warping or twisting.
And it turns out Douglas fir is far more than just a good-looking wood, its durability and resistance to rot and insects make it a favourite choice for outdoor projects. It means that our benches and picnic tables are pretty heavy duty, 50mm thick timber secured together with strong coach bolts.
We can also design the tabletops to extend at either end to allow wheelchair users to sit comfortably. Similarly, the legs on both benches and tables can be made longer to be fixed straight into the ground if required.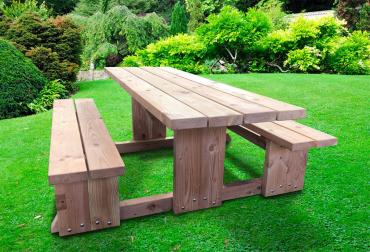 The benches can also be routed to reflect a memorial for someone. A memorial bench is actually a great way to remember a loved one. When sitting on one it can usher in a feeling of being with them again, especially in a quiet place, and is perfect for family and friends to sit and reflect on special memories and moments shared. The commemoration can also be more than just simple text like a name and dates, because we can hand inscribe a special poem or quote.
Life has been no picnic of late, but as lockdown restrictions are eased every day can be a picnic if you 'ketchup' with friends and relish the warmer days ahead. Someone once said a picnic is more than eating a meal, it is a pleasurable state of mind and we could all do with a slice of that cake.
The famous author, W Somerset Maugham also said: "There are few things so pleasant as a picnic eaten in perfect comfort." And Nature Sign Design's picnic tables and benches are the most comfortable around.