Lockable Notice Boards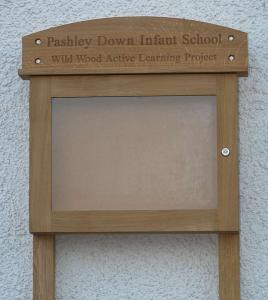 Lockable notice boards are very popular with a wide range of uses. Because they are lockable they are ideal for displaying information outside. Notice boards are commonly used by parish councils, halls and schools. Lockable notice boards are mostly used for displaying information that changes regularly.
Our lockable noticeboards are made from oak, steel or aluminium. They come with either cast or routed headers or footers. Each lockable notice board can be free standing on posts or wall mounted. They are glazed with 4mm polycarbonate, and cork backed for notices to be pinned inside.
Lockable Aluminium Notice Boards
We also produce noticeboards in aluminium. They can be any combination; the most popular is usually a noticeboard with a permanent sign panel alongside, which can be a site map or information sign.
The aluminium noticeboards can have cast traditional headers, complete with finials and posts or wall mounted.
For more information on our lockable aluminium notice boards please click here.
Lockable Oak Notice Borads
Our oak noticeboards are all made to order, they can be made in any size. The notice boards come with an oak routed header to complete the look. They can be wall mounted or stand on oak legs.