Douglas Fir Benches
Douglas fir benches from Nature Sign design are an excellent alternative to more traditional options such as oak and teak.  Our benches are extremely heavy duty and hard wearing. This means there is no compromise on quality. Douglas fir, is a widely used type of lumber due to its stability and strength. It is much less prone to warping or twisting when compared to other types of wood. All benches are made from 50mm thick solid pieces of Douglas fir.
Because we use 50mm solid pieces, we are able to offer Douglas fir picnic tables. Ideal for outdoor dining with your friends and family. For more information on picnic tables and garden benches click here.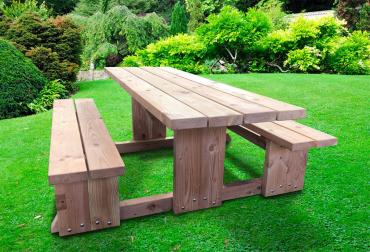 Douglas Fir Memorial Benches
One of the most important characteristics of a memorial bench. Is that it is durable and resistant to weathering. These benches are for remembrance, so it is vital that they are able to maintain their appearance over a long period of time. This is why we don't compromise on quality. We make our commemorative benches from 50mm thick solid pieces of Douglas fir.
We have the option to rout a poem or a name in the bench. Allowing you to create the perfect memorial for a loved one. Follow the link for more information on our Douglas fir memorial benches.