Douglas Fir Garden Benches
A great alternative to traditional oak benches are our Douglas fir garden benches. Our benches and picnic tables are extremely heavy duty and hard wearing. This means there is no compromise on quality. All benches are made from 50mm thick solid pieces of Douglas fir.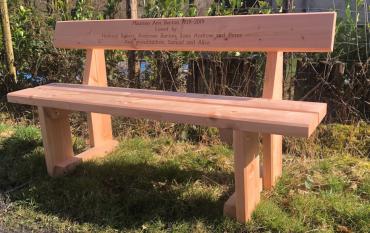 Douglas fir, is one of the most widely used types of timber. This is due to its stability and strength. It is much less prone to warping or twisting when compared to other types of wood. Far more than just an attractive wood. Its durability and resistance to rot and insects make it a favourite choice for outdoor projects. It means that our benches and picnic tables are very robust. 50mm thick timber means we can secure pieces together with strong coach bolts.
Hand Carved Douglas Fir Garden Benches
As with our other ranges of wood. We can still rout a poem or name in the bench along with a bespoke design. The options available are endless, if you have the imagination we have the know how. Just let us have your requirements and we can draw up a layout for your approval.
The benches can also be routed as a remembrance piece for a loved one. A memorial bench is actually a great way to remember a special person or occasion. You can find more information on our Douglas Fir memorial benches here.
Douglas Fir Picnic Tables
Nature Sign Design's Douglas Fir picnic tables are a great option for any garden. If you're looking to enjoy outdoor dining in the sun with your friends and family, a picnic table is the perfect option.
We can also design the tabletops to extend at either end to allow wheelchair users to sit comfortably. The legs on both benches and tables can be made longer to be fixed straight into the ground if required for added stability.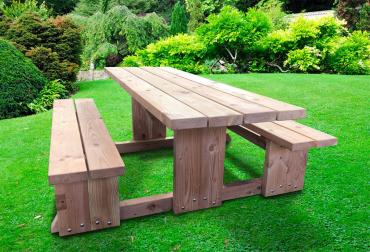 For more information on our range of Douglas fir benches and picnic tables, you can contact us or give us a call on 0161 980 4883.
For further options why not try our oak garden benches, or our teak garden benches.