Douglas Fir Memorial Benches
When people have a memorial bench in mind they will usually first consider oak. However, we have found that a great alternative to the classic oak bench, are our Douglas fir memorial benches.
One of the most important characteristics of a memorial bench. Is that it is durable and resistant to weathering. These benches are for remembrance, so it is vital that they are able to maintain their appearance over a long period of time.
Even though our Douglas fir benches are less formal and less expensive than the oak alternative. There is no compromising on the quality of the product. We make our commemorative benches from 50mm thick solid pieces of Douglas fir.
Hand Carved Douglas Fir Memorial Benches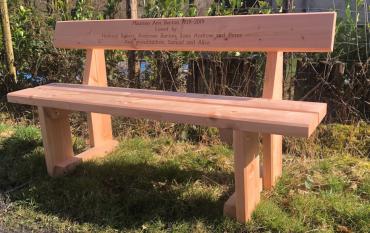 As we use 50mm thick pieces of Douglas fir, we have the option to rout a poem or a name in the bench. Allowing you to create the perfect memorial for a loved one. When sitting on one it can usher in a feeling of being with them again. Especially when in a quiet place. And is perfect for family and friends to sit on and reflect on special memories and moments shared. The commemoration can also be more than just simple text like a name and dates. Because we can hand inscribe a special poem or quote. The options available to you are endless.
All you need to do is get in touch and discuss your requirements. From this we can then draw up an example layout for your approval. And then create the custom bench once it meets your expectations.
Carved engraving prices & options:
Commemorative brass plaque 150 x 150mm – £63.70
Top rail – 1 line – £100.10.
Top rail – 2 lines – £136.50.
Seat rail – 1 line – £136.50.
Logo or motif – £145.60.
Delivery costs – £60 each.
If you would like further information on our range of Douglas fir memorial benches contact us today or give us a call on 0161 980 4883.
For further options why not try our oak memorial benches, or our teak memorial benches.