Oak & Brass Rubbing Posts
Our solid oak & brass rubbing posts are all hand cast, made in the old fashioned way, hand polished and finished. The brass plaques are between 4mm to 5mm thick and are 100 x 100mm in size.
You can order just the bass plaques to mount yourself onto existing structures or can team them up with our extremely robust 150 x 150 x 1500mm fsc oak posts. If ordered at the same time we will mount the plaques onto the posts free of charge.
Nature Sign Design's rubbing posts are excellent items for keeping children occupied on longer walks. You are able to turn your nature trail into a game that the children can be encouraged to complete. Plaques can be incorporated into activity sheets or booklets which can be handed out to kids. With the idea of collecting all the rubbings available encouraging visitors to explore the entire nature trail in full. Interacting with each post as they explore.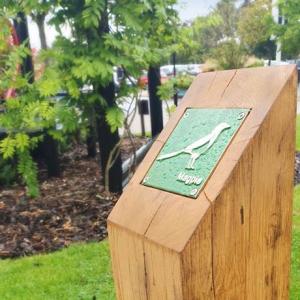 We have an ever-growing catalogue of designs we have produced in the past for you to choose from. Or if you have something in mind and do not see in our catalogue. Then we will design this for you free of charge.
Our oak & brass rubbing posts are secured using anti vandal security fixings recessed into the top of the post for added security.
We can add routed and hand painted elements to the oak posts also, either simple text or more complicated logos or images.
We have also introduced a range of aluminium and zinc rubbing posts. Follow the link for more information on these.