Nature Trail Rubbing Posts
Nature Sign Design have created several sets of nature trail rubbing plaques. Rubbing posts are generally used along nature trails, and allow visitors to take rubbings at points of interest along the nature trail. Each post can be different, and depicts an animal or plant associated with the area it is located in.
Rubbing posts can be incorporated into activity sheets or booklets. These encourage visitors to explore the entire nature trail and interact with each post along the way. They are a great way to keep children engaged on longer nature trails. The posts turn the nature trail into a game that the children can be encouraged to complete by collecting or "rubbing" each post.
Rubbing posts have been around for a while, but surprisingly there is nothing currently like ours on the market. We have introduced an aluminium posts complete with a zinc plaque. At Nature Sign Design we are very excited to be at the forefront of this innovation.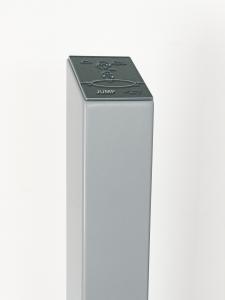 As mentioned previously the plaques on our rubbing posts are now made from zinc. The raised text, borders and outside edge are hand polished and finished. This means we can incorporate braille into the design, making them accessible for blind and partially sighted people, especially children.
The thickness of the plaque depends on its size but on average each plaque is approximately 4 to 5mm. We are able to make plaques in almost any size you wish. But we find that 4 x 4 inch square, attached to a 6 x 6 inch aluminium post is what most clients prefer. The posts can be routed with lettering and logos too!
We have switched to the aluminium and zinc posts from oak and brass, because they are lightweight and durable, environmentally friendly, are fully recyclable and are child friendly. The plaques have safe radius corners with no sharp edges.
Our posts and plaques are available in a variety of sizes and colours. And as you would expect, we regularly work with our customers on bespoke ideas. This is as well as having a catalogue bulging with off the shelf options.
We mount the zinc rubbings onto the posts using anti vandal fittings and countersink them with glue to make them secure. This ensures they are able to withstand the punishment of a life in the outdoors.
Our Aluminium Rubbing Posts
Nature Sign Design can design nature trail rubbing posts to meet your specific requirements. We can even make the rubbing posts from a design provided by you, or choose from the many we have on file.
We have an ever growing catalogue of images to choose from, but if there is something you require, please let us know and we will design it for you free of charge.
Click on the pictures below to see enlarged images of example of the beautiful rubbing posts we have previously made for other clients.