Commemorative benches are a special way to keep a memory alive. They provide a place to sit alone and reflect on happy memories or indeed a place for family and friends to gather and remember times past. That's why we have put together this guide on how to make a memorial bench.
"Think only of the past as its remembrance gives you pleasure."
In that simple quote from Pride and Prejudice by Jane Austen perhaps lies the popularity of memorials to loved ones. And even more precisely the increasing number of memorial benches we see in every village and town, coastal walk and hill path.
Not all of them are for lost loved ones. In the last year we have seen some dedicated to unsung heroes of the pandemic or the NHS, while some are used as a reunion point for groups of friends or colleagues. There are even examples of dedicated benches encouraging people to meet and chat, to tell stories or just unburden themselves. Often colourful, sometimes amusing, always used.
Different Areas, Different Rules
This all begs several questions – are there any rules about buying, placing and dedicating a memorial bench in a public place; what they should be made of; and who should be contacted for permission?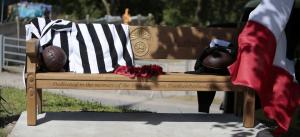 In the main, the rules to follow are set by the local council – city, town or parish and they differ depending where you are in the country. These dictate where they can be installed, who installs them and who is responsible for their upkeep. Costs of course are likely also to vary.
In general though, most placing of public benches has to be approved by the presiding authority, public body or land keeper/owner. Fortunately, most councils have information online outlining the full process.
That even includes bodies like the National Trust which tend to be the guardians of areas of outstanding natural beauty, parks, gardens and stately homes and they advise that a specific attraction should be contacted directly.
Most councils have a set number of benches they will accept for popular areas and, again, on their websites, there is likely to be a list of areas available. They may even encourage you to adopt an existing bench and add your own plaque if there are no vacancies.
Installing the bench is a matter of public safety, so it has to be done properly and in most cases that means that councils install benches themselves. They charge for this though and that cost depends on to what the bench is fixed and the fixings needed.
However, given what it has cost so far to reach this stage the good news is that councils usually take responsibility for the upkeep of commemorative benches in public areas. That doesn't mean that you can't ensure that it remains looking good yourself..
Some councils will supply a bench to you at a cost and others will ask you to purchase it which gives a bit more leeway in terms of material and style and allowing more freedom in the design.
In terms of what can be inscribed on a bench, most local councils allow personalised inscriptions in the bounds of common decency along with the person's name and significant dates. If you want a plaque inscribed then most councils will ask you to supply it although it can come as part of a council's overall service.
Our Memorial Benches
At Nature Sign Design we specialise in hand carved memorial benches in three types of high quality Grade A sustainable wood ensuring that the bench is environmentally friendly, hardwearing and which will age beautifully over time.
We can supply a bespoke design and message, poem or quote engraved into your bench and it's also possible to add a carving, if desired. For the teak benches, which over time develop a beautiful silvery patina, we offer hand carved text only and are limited to the number of characters depending on the size.
With oak memorial benches and Douglas fir, we can be more creative which can be routed with text and designs and hand painted. So three types of benches depending on your budget.
We recently made a bench from oak for Eton College, offering our full service package with a tight deadline. The recipient was overjoyed and, while no surprise to us, was wonderful to read nonetheless: "I can't sufficiently put into words just how delighted I am with it. The bench is a thing of beauty.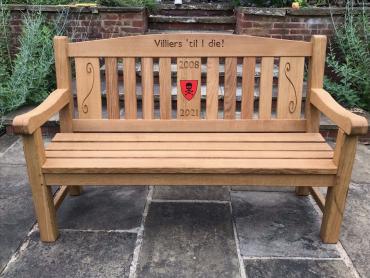 "The balanced design, the scaling of the logo to the surrounding space, the solid, clear, deep cut reassuring carving. So completely opposed to the countless examples of laser etched images I was offered by too many other bench companies. There simply is no comparison."
And if that weren't enough: "One is drawn to your bench by the totally satisfying curve of the arms, the arrangement of the seat boards, the method of construction with wooden pegging, the chamfer to the uprights just below the armrests, the curve to the edging of the back rest (one can't help stroking it!). Things like that do not go unnoticed…I would not hesitate for an instant to recommend Nature Sign Design to anyone."
Whichever route you decide, we sincerely hope that your memorial bench brings happy memories, conversation, smiles, and of course a place to rest and reflect – as well as a compelling reason to be outdoors.