At Nature Sign Design we are lucky enough to have a brilliant in house illustrator who is able to create beautiful hand drawn maps, just like the one of Fiddlers Ferry shown above.
These hand drawn maps are incredibly detailed. This makes them perfect for use either as a handy reference, as was the case in leaflets we created for the Haughton Green Heritage Trail, or as a large centre piece on an information board. This is what we created for Samlesbury Hall in Lancashire.
As you can see from the picture below. The first stage of the process is to draw the outline of the map in pencil. This allows us to check the map has been drawn to scale and that all the most important landmarks are in the correct places. It also allows us to ensure that we have enough space to include any other details you feel would enhance the map such as a key, or as if useful on maps which are used on a trail or walk, a scale factor.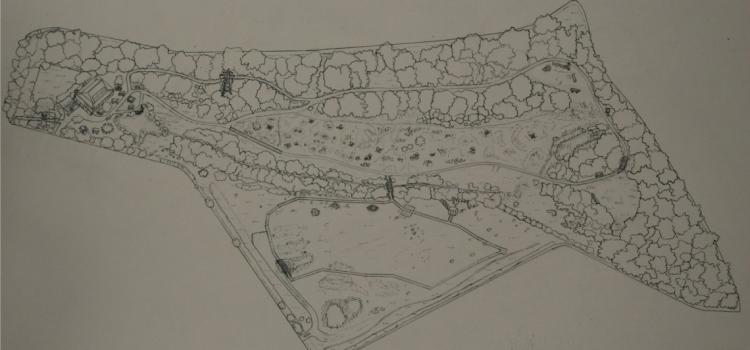 Once this has been completed colour will be added to the map. We will always try to have the colours match their real life counterparts as much as we can, this not only gives the map an authentic feeling but also allows for easier identification of any points shown. However we will change the colours slightly if it enhances the look of the map as a whole, results in an improved match with the surroundings or stands out better from the noticeboard it is on.
If you would like Nature Sign Design make you a hand drawn map, then simply go to our contact page and get in touch using any of the details listed on there.
You can see the finished designs for other hand drawn maps we have completed here.