Interpretation Panels, Wooden Signs, Finger Posts and Nature Signs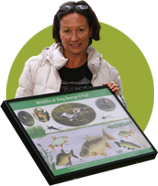 Nature Sign Design is a company specialising in interpretation panels from initial concept to installation. We have a great team who can make your ideas a reality.
We work very closely with our clients and have a 'can do' reputation for getting things done that others can't.
Whether your project is large or small we can advise on every aspect from start to finish. Customer satisfaction is our number one priority.
Anne Michaelides is the founder of Nature Sign Design and is herself an award winning wildlife photographer; all the photographs you see here are unique. Unlike our competitors we never 'buy in' any images, we create everything in-house.
We have talented graphic artists and designers as well as an in-house illustrator who creates all our stunning images which are used on our interpretation panels.
We have expanded over recent years to include many different products including nature signs, wooden signs, finger posts, wooden lecterns and steel lecterns. Please click on the categories below to give you an overview of what we can offer. Read more about us..